1. THE HUMAN GIFT IDEA:
Women love the idea of gifts, mostly when they are on the receiving end of it. We all have heard about the fact that you can make your wife happy by giving her diamonds, but this is a first in the market. When did the idea of gifting a whole person to someone start in India?? Yes, this was a tradition of the past where the princess would take a girl (helper) of her own age to her husband's house so that she could have company in the new place, but gifting your wife a maid is a new concept, and also it's a human being we are talking about. I wonder who is the mastermind behind this one?
2. THE UNISEX WASHING MACHINE:
Either the company gave a wrong idea or I am unable to understand. How the hell did they analyse the gender of the machine? Just kidding. The company claims that it is a unisex machine, so both men and women can use it to wash clothes. They are smart people and still were not able to identify the sex of the machine. Sad but true!! 3. THIS FREEDOM OF CHOICE:
This is where you can understand what type of freedom is granted to the women in India. A girl who couldn't chose her own husband was allowed to choose her own jewellery. This is a great achievement that has been shown by this ad right here. This jewellery brand made sure that people knew about the boundaries of a women. Well at least the parents knew how much you loved jewellery, was it possible for you to find a husband who would let you chose your own jewellery?? (RICH HUSBAND VIBES)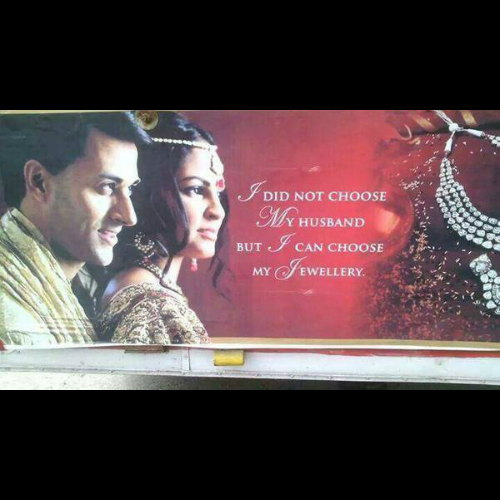 4. THIS IRRELEVANT CEMENT AD:
For some weird reason JK LAKSHMI CEMENT thinks a girl dancing near the monument which is also their trade mark will help them gain customers. Seriously!! What is the connection between a girl and your Cement? Will she come with the bag of cement? Is she going to make walls when the workers prepare the cement? Or let me guess, is going to dance for the entertainment of the people using this cement. If not, then why is she even in the ad?
5. THE "BRIDESSENTIAL" COURSE:
Another one comes my way. Are you going to make your daughter a Chef of a Maid or a Wife? The course includes how your daughter can be a good maid by keeping all the utensils clean because she has to wash the dishes, and also plan menu because the in laws of your daughter own a restaurant and not a house so she needs to know everything. I mean seriously? If a women doesn't know how to maintain a kitchen, then she is not a good wife? So if you know a bride who cannot cook she isn't ready for marriage.